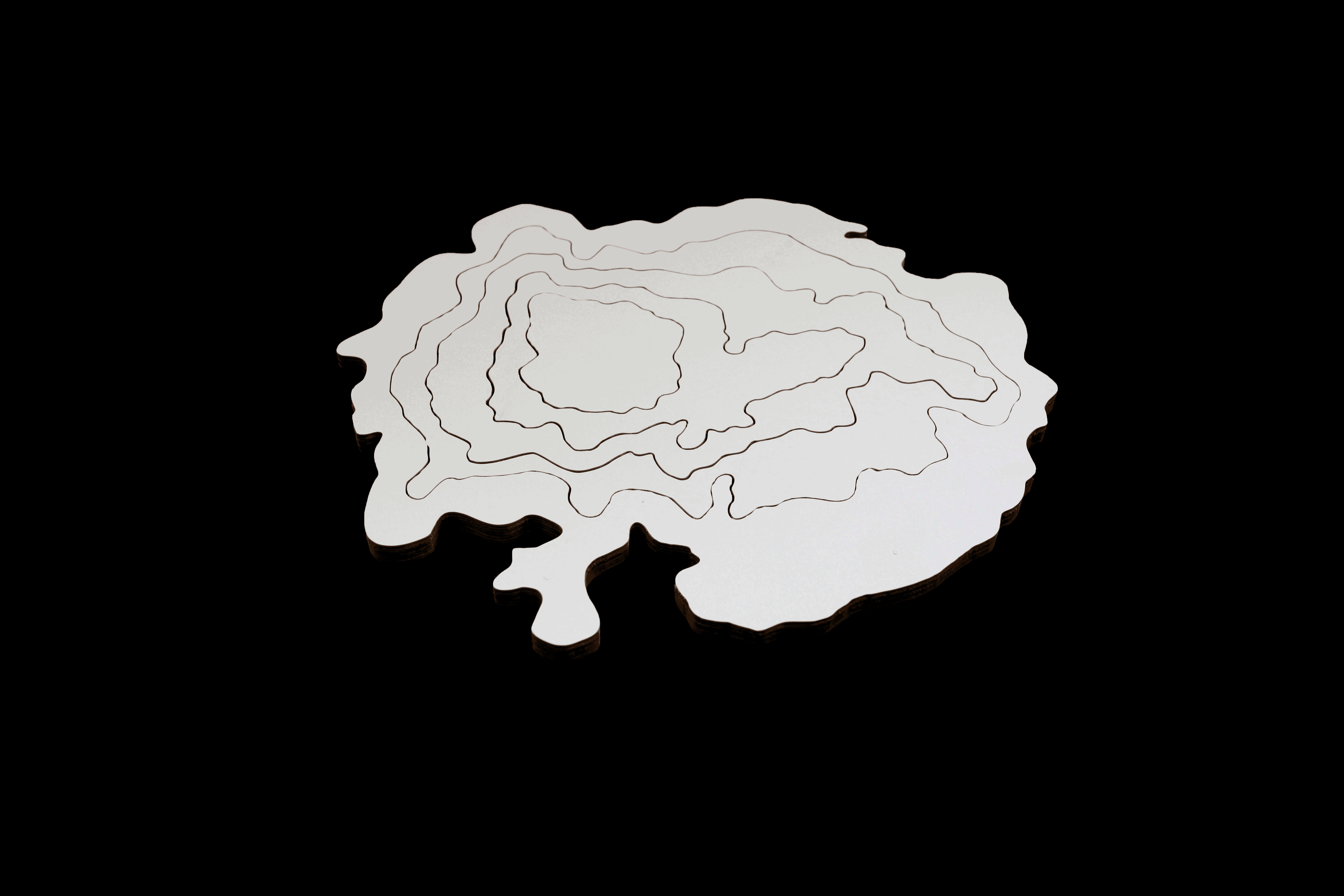 Hofsjökull / 2015
'Trivet' based on the mathematical model of Hofsjökull.
Years, 2014 ∼ 2150 ∼ 2200 ∼ 2250 ∼ 2300
Excerpt from the Publication HH




Hofsjökull, The Trivet, reflects on the results from a mathematical model of Hofsjökull which is Iceland's third-largest glacier, close to 1,800 meters (5,900 feet) high. The contour lines of the trivet show the transformation of the glacier until the year 2300. Assuming that air temperatures continue to rise at a rate of 3°C every 100 years.

A collaboration in with scientists at the Nordic project Climate and Energy (CE), the Institute of Earth Sciences and the Meteorological office in Iceland. The project visualised the database scientists have researched by translating the information and making it accessible to the public. When the trivet is dismantled, it demonstrates the area of the glacier that will be lost during each period. Showing the threat and the forceful change of climate change.








The outlines mark the years 2014 2150 2200 2250 2300.



Concept, Design;
Anna Diljá Sigurðardóttir

Collaboration;
The Institute of Earth Sciences
Dr. Guðfinna Aðalgeirsdóttir
Dr. Sigurður Reynir Gíslason
The Icelandic Meteorological Office
Dr. Tómas Jóhannesson

Published;
"A Hotplate that "melts" Grapevine
Publication, "The Nature of Skagafjörður"

Exhibited and produced for;
Design March, Reykjavík, Iceland 2015

3D model, Aerial photographs;
University of Iceland's Institute of Earth Sciences
The Icelandic Meteorological Office

Funded by;
Nordic Energy Research
the Nordic Council of ministers