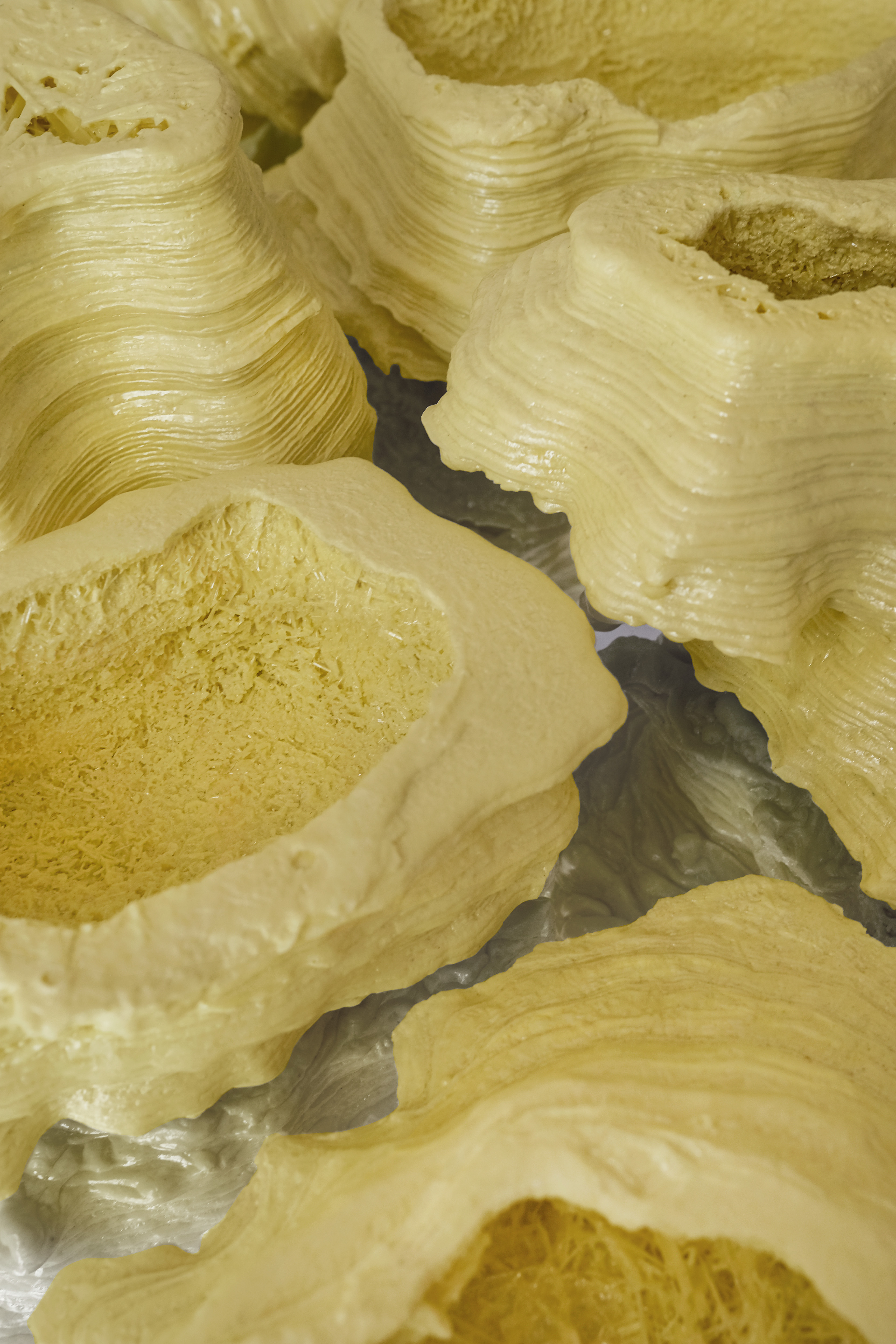 EARTHLY DELIGHTS (ongoing) / 2019
Machine using two elements, water and pure Sulphur.
Triptych, traditional engraving and Sulphur inlaying techniques.
Sculptures, variable dimensions.




Earthly Delights is a study on Sulphur and its image in the course of history. The project exhibits the industrial and geological cycles of the rather underestimated element, that has been a valuable commodity and integral component of the world's economy.

A series of machine-made sculptures show the passing of time, through an accelerated recreation of a slow natural process. Through a set of repeatable processes, Sulphur is shaped and solidified in water. However, its appearance can never be fully controlled. This leaves each sculpture as a unique piece, exposing sulphur in its, rarely seen, pure form.











Concept, research and design
Anna Diljá Sigurðardóttir

Displayed at
2019 Gradshow19 at Campina, Dutch Design Week, Eindhoven, Netherlands.
2020 FAR–Brassless, New accords for the metallic wave, Milan, Italy. ☗

Talks:
'Carbon Geomancy' on the politics of extraction and minerals at the Interdisciplinary seminar at Icelandic University of the Arts, Reykjavík ☗

Supported by
Myndstef Project Grant

Photographer of machine
Femke Reijerman

Machine, Development
Matiss Balodis and Anna Diljá Sigurðardóttir

Collaboration, theory contributions
Scientific Office Reykjavík

Bachelor of Food Non Food, 2019 (Cum laude)
Design Academy Eindhoven
Rene Smeets Award (Nominee)